Over the bookfair weekend there will be a number of ways in which we provide space for people to celebrate, to meet, to encounter, to mourn, and to play with each other outside of the presentations, workshops, and vending space. Here's the full list!
Thursday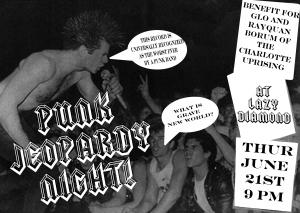 Punk Rock Jeopardy June 21: 9PM @ The Lazy Daimond!
Get your teams together, compete for the prize & raise money for Glo Merriweather & Rayquan Borum who are facing charges from the Charlotte Uprising.
Friday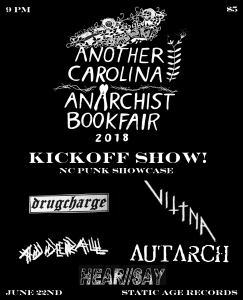 A North Carolina Punk Showcase June 22 9PM @ Static Age Records
Drugcharge (Raleigh)
https://youtu.be/hRfoE86KRLM
Vittna (Raleigh)
https://www.youtube.com/watch?v=FjsrVzXJyJs
Adderall (Asheville)
https://adderall.bandcamp.com/
Hear//Say (Asheville)
https://hearsayavl.bandcamp.com/
Autarch (Asheville)
https://autarch.bandcamp.com
Saturday
A Space of Remembrance 9PM – Location TBA during the bookfair
Anarchist rituals have always involved the dead. We bring, often without an attempt at overt significance, elements of ritual to the streets in the form offerings like fire, vessels, flags, masks. We write the names of our dead on the streets. We dedicate actions and writings and creations to the dead. We avenge those who have been killed through state violence through our choice of targets in our actions. We create our own memorials for the dead, sometimes in the form of roving street parties, occupations, erecting temporary altars and lighting candles. In many ways, riots are an expression of the need to create space to grieve for those we have lost, or for those who never had the chance to live out their potential– to collectively mourn, avenge and pay tribute. On Saturday around dusk we invite the opportunity to gather in public space (to be announced at the bookfair) and erect a space of remembrance together, in particular we will make space for those who have been killed at the hands of the state and white supremacists. Bring anything to share in making this space– candles, flowers, offerings, readings, paint, etc.

Another Carolina Anarchist Dance Party 10pm
After the vigil a dance party featuring DJ Hijx De La Chingada & DJ Ganymede at The Underground behind O'Henry's – 21 and up 5$ suggested donation.
Sunday
Waterfall Hike – 11am Ingles PArking lot on Haywood Rd
Caravan together with friends for a nice hike into nature.
KICKBALL – 7pm West Asheville PArk 198 Vermont Ave
All are encouraged to attend, you don't have to play, the park is nice and there are bleachers to sit, chat, and heckle.